2023 Direct Care Worker of the Year Nominee!
In a world where compassion and selflessness often go unnoticed, it is an honor to shine a spotlight on people who embody the true spirit of caregiving. Today, we celebrate Eulena S., a caregiver whose compassionate nature earned her a nomination for 2023 Direct Care Worker of the Year!
For nearly two decades, the Pennsylvania Homecare Association and the Pennsylvania Department of Aging have used this award program to recognize excellence in home-based care and raise awareness for the invaluable roles that direct care workers play in their communities.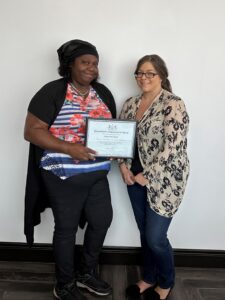 Jennifer K., our Western PA Homecare Division Manager, chose Eulena to be nominated for this award. Jen simply said, "We nominated her because we are lucky to have her on this team, she is everything a true caregiver should be." Our Western PA Homecare team presented the award to Eulena on August 2nd. Eulena was thankful and honored to be selected as a nominee for Direct Care Worker of the Year saying about her job, "I wouldn't trade it for anything. Every time I close my eyes, I feel fulfilled."
Eulena's love for caregiving began at an early age when she would care for older women in her church. She learned a lot from those women and took many of the lessons they taught her into her adult life. From there, she continued to care for those in need and eventually turned it into a career. Eulena said, "I enjoy what I do, it's beautiful."
Eulena's dedication to her role as a caregiver is truly awe-inspiring, she goes above and beyond for all her clients and is willing to step in and help anyone who may need it. Her clients often mention how much better their lives are with Eulena in them, and Eulena says she feels the same way. She treats her clients as if they are members of her own family. To her, caregiving is more than just a career, it is a mission to help better the lives of as many people as she can. Her advice to others in the field is to, "fulfill the needs because you never know when your needs will need fulfilled. Smiling helps."
Dedicated Nursing Associates, Inc. would like to say thank you, Eulena, for your kindness and compassion. We extend our heartfelt congratulations to you for your well-deserved nomination!
Pennsylvania Homecare Association & Department of Aging
Each year, the Pennsylvania Homecare Association hosts the Direct Care Worker Forum in Hershey, PA where Direct Care Worker of the Year Nominees from all over Pennsylvania are honored. During the event, the Pennsylvania Department of Aging chooses one of the nominees to be named 2023 Direct Care Worker of the Year.
The Pennsylvania Department of Aging works to ensure that older adults across Pennsylvania have access to quality services and support that helps them age and live well. Created in 1978, the department serves as the state unit on aging, advocating for the interests of all older Pennsylvanians, overseeing an array of benefits, services, and programs that are made available through its network of 52 local Area Agencies on Aging (AAAs), which cover the commonwealth's 67 counties.