Happy National Nurses Week!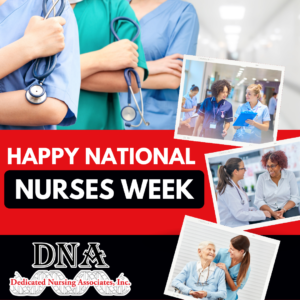 National Nurses Week is celebrated each year beginning on May 6th, National Nurses Day, and ending on May 12th, Florence Nightingale's birthday. National Nurses Week is a time to celebrate nurses and their hard work, dedication, and compassion when it comes to their profession!
At DNA, we are dedicated to fulfilling the needs of our healthcare clients while maintaining the highest level of care, and we wouldn't be able to complete that mission without the valuable, tireless, person-centered work that our nurses do every single day.
The American Nurses Association (ANA) has declared the theme for this year's celebration "You Make a Difference." Every day nurses make a difference in the lives of not only their patients, but also in the lives of their co-workers and the members of their communities. From advocating for patients to providing exceptional care and emotional support, nurses always find a way to make people feel heard and protected during their most vulnerable time.
So, we want to say thank you, not only to the nurses that make DNA excellent, but also to all nurses and caregivers who continue to show compassion and professionalism each and every day.
ANA has also declared May to be National Nurses Month. To show our support, we will be doing weekly giveaways on our Instagram all month long! Follow @DedicatedNurses and turn on post notifications so you don't miss out on the fun!