DNA Donated $32,000 to the UPMC Children's Hospital Foundation!
On November 1st, 2022, DNA Charities, Inc. presented a check for $32,000 to the UPMC Children's Hospital Foundation, bringing our lifetime donation to $143,900! This outstanding donation was made possible through our 7th Annual DNA Charity Golf Classic. This year's event was held at Meadowink Golf Course in Murrysville, PA on June 17th. We hosted two flights to allow for more participation, bringing in 204 total golfers and 42 sponsors!  
7th Annual DNA Charity Golf Classic
This year's event began with an acoustic performance by Common Ground during registration. Breakfast for the first flight of golfers was generously provided by Eat n' Park of Murrysville, Sam's Club of Greensburg, and Scozio's Bakery of Penn Trafford. Golfers received their t-shirts before heading off to their carts for the 8AM shotgun start. Attendees' carts were also stocked with cigars donated by Starr Insurance and ball markers donated by Dr. Ghate Foot & Ankle Surgery, along with other golf goodies. Additionally, Hillview Motors sponsored a hole-in-one contest with the prize of a new vehicle at hole #7! After returning from the green, Flight 1 golfers enjoyed lunch, featuring musical guests Life of Brian.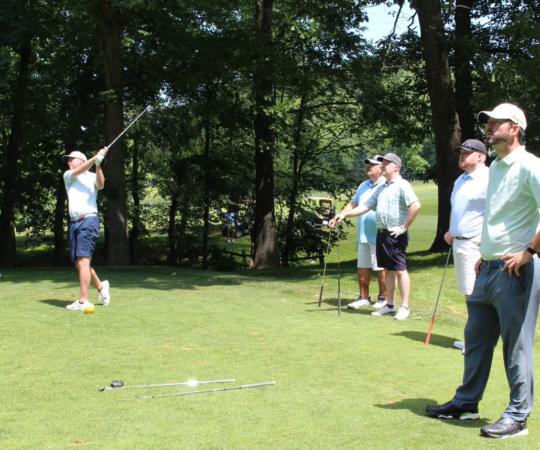 Flight 2 set out to play at 3PM. Fundraising mini games took place on the course throughout the day, including Spin the Wheel, Guess the Tees, and a putting contest. PGA Head Golf Professional Alex Angelone helped raise funds, along with golfers' scores, by teeing off for them at hole #11. Smail Auto Group sponsored a hole-in-one contest with a $10,000 cash prize for the second group of golfers. Finally, Michael Glabicki of Rusted Root with Dirk Miller closed out the evening with a live performance after dinner, featuring their popular track "Send Me on My Way."  
Basket raffles and 50/50 drawings were held for both flights of golfers, with ticket proceeds being donated to the Foundation. Raffle items were donated by various businesses in the Pittsburgh region, including the Pittsburgh Opera, Chestnut Ridge Golf Resort, LeMont 
Pittsburgh, ASCEND Pittsburgh, Pittsburgh Fit, Gateway Clipper Fleet, and more! Golfers could also try their luck at winning a signed Cam Heyward photo from the Pittsburgh Steelers, a signed Evgeni Malkin jersey from the Pittsburgh Penguins, and a signed Sebastian Aho jersey from the Carolina Hurricanes.
UPMC Children's Hospital Foundation
At the check presentation ceremony, the foundation's Development Coordinator of Community Giving welcomed the DNA team to Children's Hospital. Our Marketing department attended the presentation with our Chief Nursing Officer and VP of Sales. After signing the check, the group took pictures to celebrate the $32,000 donation.
Afterwards, Justina led a tour throughout the hospital, explaining its history, architecture, and the impact of donations. Highlights included the recently re-opened Lemieux Sibling Center, the John G Rangos Sr. Research Center, and the history wall, which features photos of and facts about the hospital spanning its 120+ year history. There are many architectural details designed to bring comfort to young patients and their families, including shorter-than-normal desks, playful motifs on floor tiles, and colorful windowpanes. Children's Hospital of Pittsburgh is a state-of-the-art facility designed to enable the best in family-centered pediatric care, and the funds raised help the hospital to seed research and maintain the momentum of discoveries; to supplement government funds for training the next generation of pediatricians, and to serve all the region's children, even when their families cannot afford care. 
DNA Charities, Inc. is proud to contribute to the Children's Hospital of Pittsburgh Foundation as their largest donating golf classic. Each year we strive to increase funds raised to make a larger impact on the children and community of Pittsburgh. We are hopeful that our contribution will help the Foundation continue its mission to provide excellence in patient care, teaching, and research. Thank you to the Foundation for all that you do for our community. 
DNA Charities, Inc. appreciates all who golfed, sponsored, or donated to our 7th Annual Charity Golf Classic! We are looking forward to our next event and cannot wait to see everyone out on the golf course next summer!