Happy National Doctors' Day!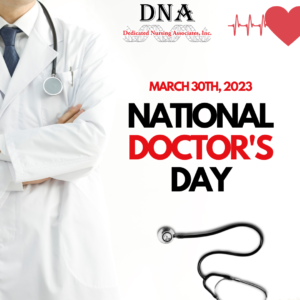 National Doctors' Day is celebrated every year on March 30th as a way to recognize Doctors, Surgeons, and Physicians for their commitment to keeping us all safe and healthy.
The first Doctors' Day was celebrated on March 30th, 1933, the anniversary of the first administration of anesthesia by Dr. Crawford W. Long! National Doctors' Day became an official holiday on March 30th, 1990.
In 1933, A woman named Eudora Brown Almond felt that her husband, Dr. Charles B. Almond, and other physicians deserved more recognition for their hard work. Mrs. Almond mailed greeting cards to all local physicians and their wives. She also placed Red Carnations on the graves of doctors who had passed away, including Dr. Crawford W. Long, and thus, the first Doctors' Day was born!
The tradition of delivering greeting cards to physicians is still a common way of celebrating National Doctors' Day and the Red Carnation has become the representative flower for the national holiday!
So today we say thank you to all doctors! Your hard work, compassion, and dedication does not go unnoticed, and we are grateful for your commitment to providing exceptional healthcare and making a positive impact on so many lives.
Thank you for all that you do!