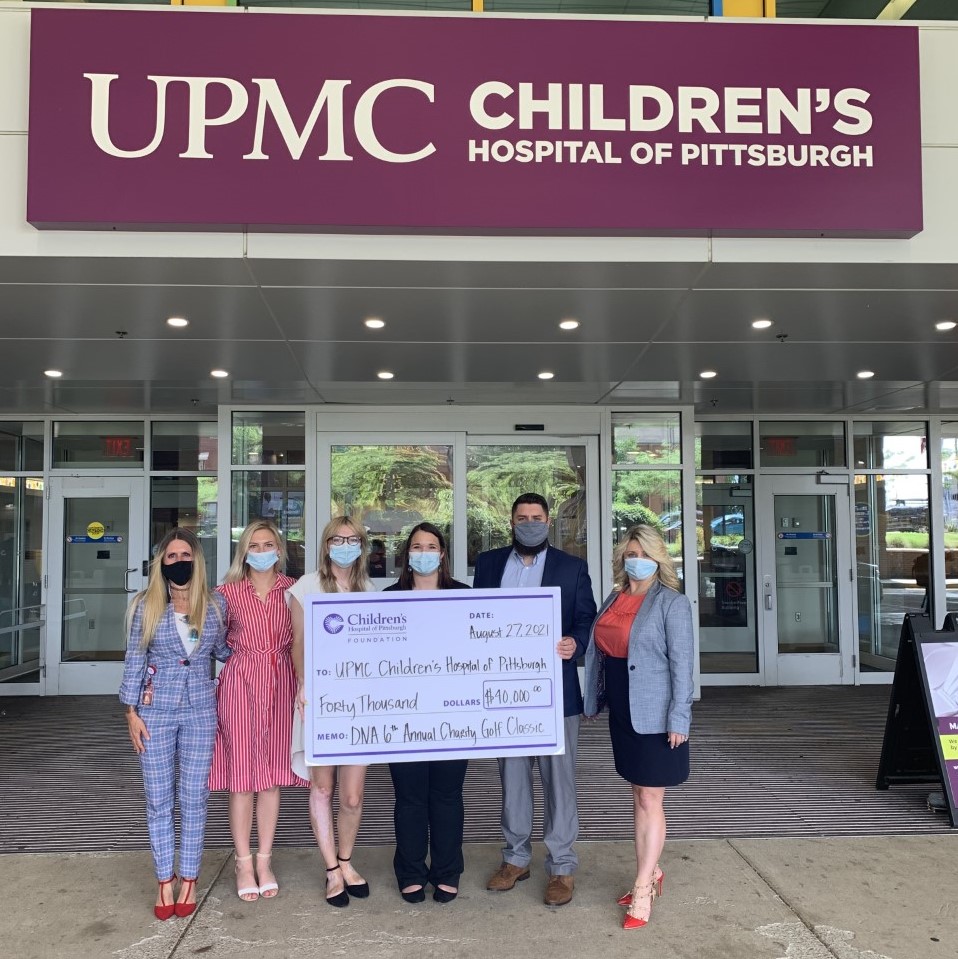 On Friday, August 27, 2021, DNA Charities, Inc. presented a check for $40,000 to the Children's Hospital of Pittsburgh Foundation! This record-breaking donation was made possible through our 6th Annual DNA Charity Golf Classic and brings our lifetime Children's donation to $111,900.
This year's event was held at Meadowink Golf Course in Murrysville, PA, on June 18th. Due to last year's high demand, we hosted two flights to allow for more golfers to participate, bringing in 244 golfers and 37 sponsors. In addition to golfing, the event included a basket raffle, 50/50, and hole-in-one contest, along with other games at registration.
DNA Charities, Inc. is proud to contribute to the Children's Hospital of Pittsburgh Foundation as their largest donating golf classic. Each year we strive to increase our funds raised to make a larger impact on the children and community of Pittsburgh. We are hopeful that our contribution will help the Foundation continue its mission to provide excellence in patient care, teaching and research. Thank you to the Foundation for all that you do for our community.
DNA Charities, Inc. appreciates all who participated, sponsored, or donated to our 6th Annual Charity Golf Classic! We are looking forward to our next event and cannot wait to see everyone out on the course next summer!
"Each year, donors like you make more than 40,000 gifts to our hospital, and every single one makes a difference.
You help more than 1,000 tiny babies in our NICU, provide free care to nearly 35,000 kids, and offer direct assistance to those who need it most. 
You fuel 550 research projects, fund more than 50 pet friends, and give so that every child has the chance to dream big. 
Because when you give to UPMC Children's Hospital, you give the precious gift of hope."
- Children's Hospital of Pittsburgh Foundation
$
Donated to the Children's Hospital of Pittsburgh Foundation
Donation Totals:
2021 - $40,000
2020 - $31,000
2019 - $22,000
2018 - $11,000
2017 - $5,200
2016 - $2,700
---