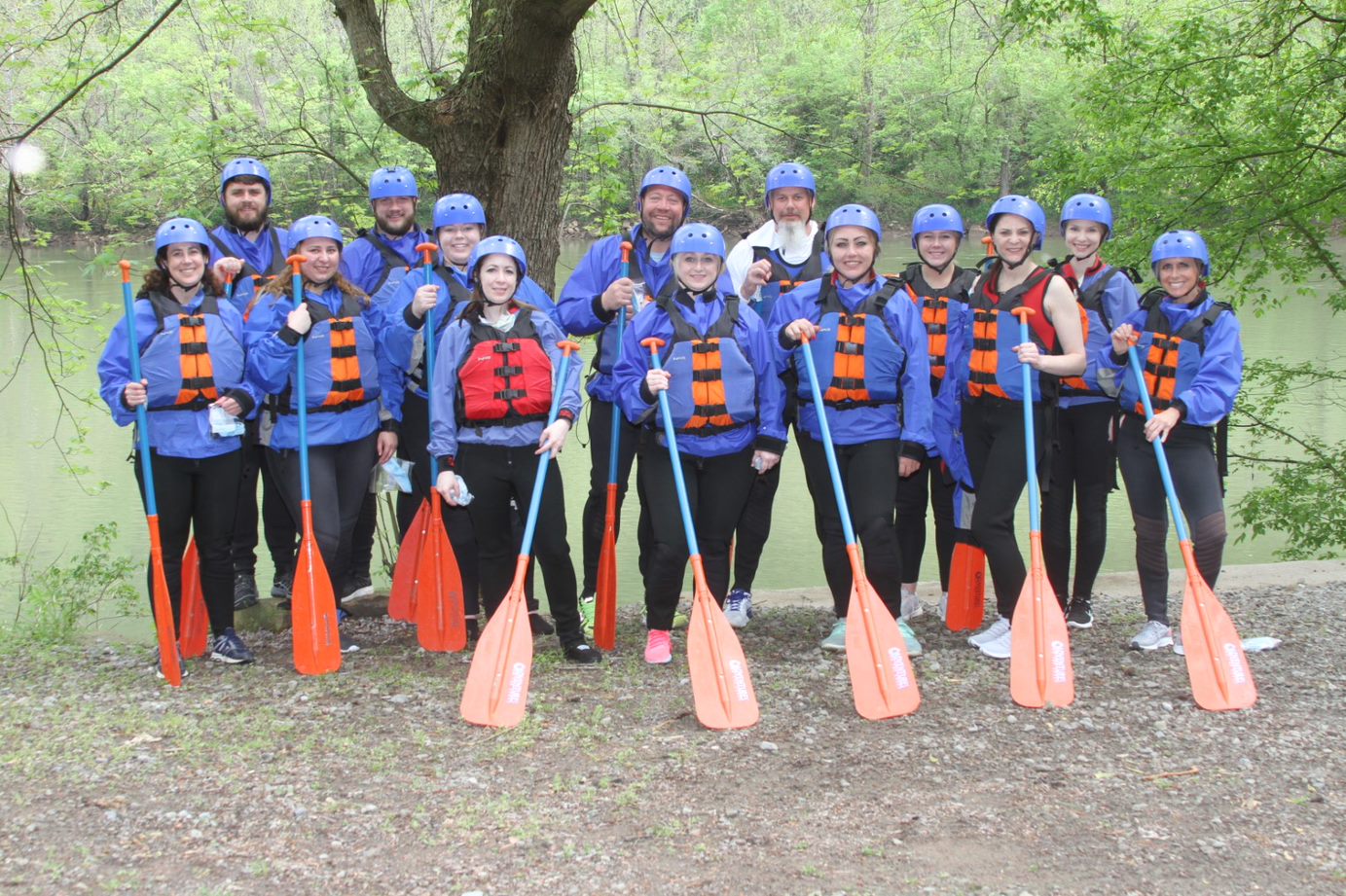 May 4, 2021 - Recognizing the efforts of employees increases team morale and encourages employees to strive for greatness, so DNA's eight Executive Board members decided to each select one person who they felt goes above and beyond expectations and gives it their all at DNA, to be a part of a great adventure. These employees were chosen for what we like to call "The Elite 8", and they had no idea what they were about to get themselves into.
After revealing the Elite 8, picked by video announcement, the members of the Elite 8 were only given a simple list of items to pack for their big adventure; no one knew where they were going and could only make assumptions based off items to pack. The morning of Wednesday, April 28th all was revealed; they were headed to Adventures on the Gorge in beautiful West Virginia. From Wednesday through Friday, the Elite 8 group were pushed out of their comfort zones as they tested their white-water rafting and laser tag skills.
We asked the DNA Elite 8 to reflect on their time in West Virginia and being part of the Elite 8. Kayla S., a Homecare Staffing Coordinator IV with DNA shared with us, "I was literally terrified but fortunately I had the opportunity to overcome a fear. The experience was an amazing one that I will not forget. The adrenaline was addicting after just the first rapid and I could not wait for the next one. Lots of laughs with some of the best people. Oh, and I'm super grateful that I didn't have to jump out of a plane!" Another Elite 8 pick, Erica R., an NRO recruiter for DNA said, "This white-water rafting trip was a huge adrenaline rush. I thought I was going to be a nervous wreck the entire time, but it ended up being a great experience. I got to bond and learn a lot about my peers and executive team members. I had my raft [crew] pick a word to yell when we were scared, to bring us some comfort. So, all the other rafts heard us scream, 'Margarita!' when we hit the rapids."
Some of the Elite 8 members had never gone white water rafting before, which granted new experiences for the group to further bond over. "White water rafting was super fun I've never gone before so I was nervous, but the tour guide was amazing, and I had a great team!" shared Sara D., a Homecare Advocate. As a white-water rafting newbie, Kristin S., a STAR-NRO Recruiter, expressed, "I am grateful that DNA gave me the opportunity to do something I never imagined doing but would definitely do again. I loved getting to know the executives and other employees. It is an experience I will never forget. Hard work pays off!"
As a company, Dedicated Nursing Associates proves that hard work does not go unnoticed. Outside of their white-water rafting and laser tag adventures, the Elite 8 enjoyed dinner together every evening and got to connect on a new level.  Carollann A., a Recruiter II in our North Carolina Office, said "Overall, I had a good time on the Elite 8 outing. We had our own individual cabins with King size beds which was amazing. I had a blast with outdoor laser tag and teaming up with Chris (COO) and Craig (CEO). The best part was getting to know the Executive team and other DNA Employees. Everyone was very down to earth and loads of fun. I really appreciated being acknowledged in such an unexpected way for the work I do here at DNA."
Ultimately, the Elite 8 truly enjoyed getting to know their co-workers on a more personal level. "I really enjoyed spending time getting to know individuals in the company that I typically wouldn't interact with. I also really enjoyed the white-water rafting. It was so fun to be able to work as a team to get through the tough rapids," Senior Data Analyst, Rachael J. shared.
Jacob B., an employee concierge stated, "The whole trip was great from start to finish. We were given a lot of chances to get to know each other and build relationships with some departments that we may not get to interact with as much. We also got to spend some time getting to know the executive team, which was awesome, not a lot of companies give out that opportunity. Whitewater rafting was quite the experience, it forced me to break out of my comfort zone and challenged me to push myself, being in the front of the raft was not as easy as it looked."
Dedicated Nursing Associates is incredibly grateful to have connected with those chosen for the Elite 8 and we are happy the Adventures on the Gorge trip was a safe, fun, and successful adventure.  Who will be chosen for the next Elite 8 Trip? Where will they go? Stay tuned!